---
Základ péče o králíčky
Klec
Velikost
Klec musí být dostatečně velká na to, aby v ní mohl králíček běhat-hopkat. Proto platí, že čím větší, tím lepší :o) Klec by měla mít minimálně 70cm. Moji králíčci mají 120cm klec, takže se alespoň nemusím trápit, když odjedeme pryč, že králíček nebude mít dostatek pohybu.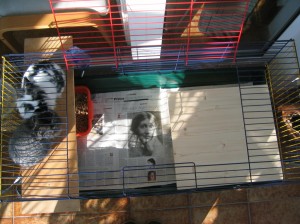 Vybavení
V kleci by měl králík dostatek vyvýšených míst, protože má rád o všem přeheld. Dá se to vyřešit jednoduše nějkým prknem, či domečkem, kam se můžou i schovat. Jestli plánujete miminka, pořiďte si domeček s odklápěcí střechou. Dále nesmí chybět napájčka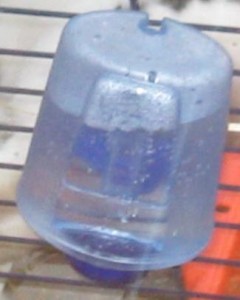 nebo miska na vodu. Napáječka je hygieničtější, ale miska je pro králíčka přirozenější. Nepostradatelná je i miska na zrní,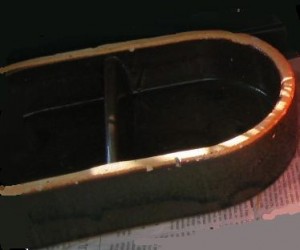 nejlepší je těžká keramická miska, kterou králík nepřevrhne. V kleci by neměly chybět ani jesličky na seno.

 A nejdůležitější je záchod!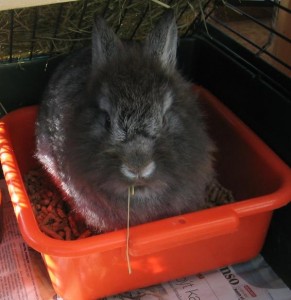 Králíček je od přírody velmi čistotné zvíře a pro vykonávání potřeby si většinou volí jedno místo, až to místo najdete, dejtu mu tam záchod s kočkolitem.

Pohled klecí :o)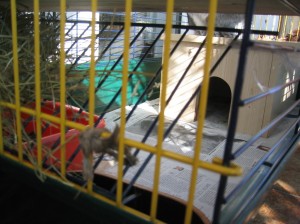 Podestýlka
Já používám kombinaci noviny + záchod s kočkolitem. Jestliže nechcete králíčka učit na záchod, můžete mu dát podestýlku po celé kleci
a) kočkolit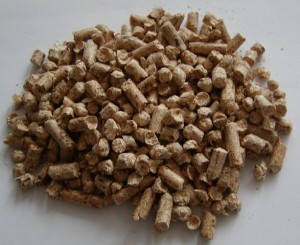 -já používám kočkolit Jonáš, jsou to dřevěné peletky, které se po kontaktu s tekutinou rozpadnou. Jsou z přírodního materiálu, takže nevadí, když králíček nějakou ochutná :o)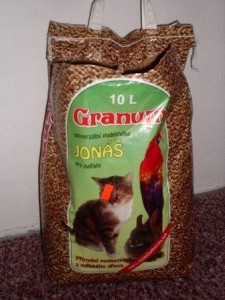 b) hobliny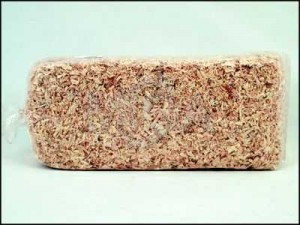 - nezachytí tolik pachy jako kočkolit, práší se z nich a chytají se na králíčka, ketrý je potom roznese po bytě :o(
c) kukuřičná drť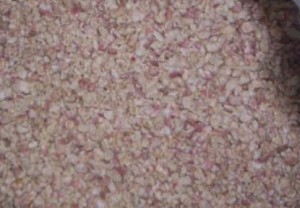 - podobné hoblinám, akorát tolik nepráší
d) seno
-  vhodné na vystlání domečku, ale ne jako podestýlka, králíček by mohl spapat počůrané seno a mít zažívací problémy, navíc silně zapáchá, když na něj králíček čůrá.
Podestýlka do hnízda
Pro miminka se mi nejvíc osvědčily dámské vložky :o) Jelikož mimča zpočátku čůrají úplně všude, samotné seno moč nenasákne a miminka se pak plácají ve vlastní moči, vložky moč krásně nasáknou a mimča jsou v suchu :o) Další materiál si obstará králice - nejlepší je seno a sláma.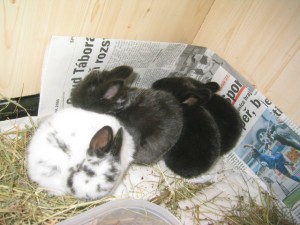 Krmení
Základní složkou potravy je seno. Přes léto můžeme králíčkovi přilepšit zeleným
 - travička, pampelišky, jetel. Seno a tráva se nazývá objemové krmivo, protože králíčí žaludek pořád potřebuje něco ,,žvýkat". V zimě můžeme králíčkovi dávat mrkvovou a ředkvičkovou nať, mrkev, zelí, jablíčka, pomeranč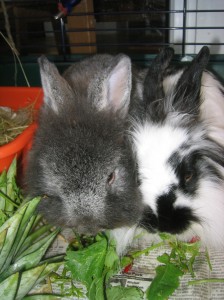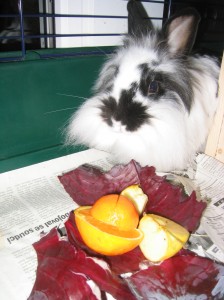 a ostatní ovoce (s ovocem opatrně, králíček může ztloustnout) a zelenina, co má králíček rád. Pozor si dejte na salát, který ve velkém množství nadýmá.
Dále je důležitá směs zrní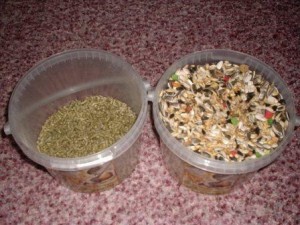 - ve zverimexu mají nejrůznější druhy, ale jestli máte v okolí krám s pro velkochovatele, kupte si zrní samostatně. Zde je návod, jak si zrní doma míchat.
25% oves
25% ječmen
20% pšenice
10% slunečnice (u králíčků se sklonem k obezitě vynechat!)
10% kukuřice nebo kukuřičné lupínky
10% co chcete :o) tvrdý chleba, vločky, sušená zelenina,...
Na broušení zoubků jsou vhodné jabloňové větvičky nebo tvrdý chleba. Pozor na třešňové či meruňkové větvičky, jsou pro králíka jedovaté!!!
Jsem moc ráda, že tolik lidí zabloudí na mé stránky a určitě každému poradím, ale pište mi prosím své dotazy na maila kristyna.flasarova@seznam.cz
Díky Kristýna ;)